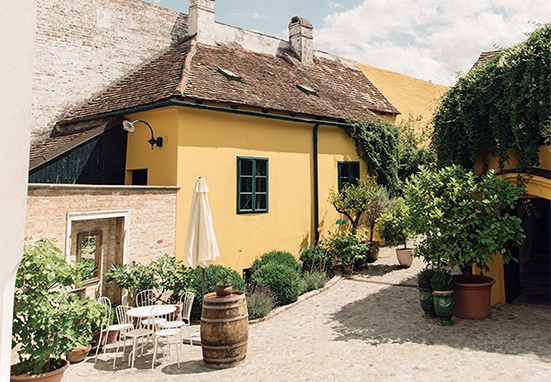 THE ESTATE
Weinviertel with a Mediterranean accent. From the outside, one has little idea what actually lies hidden behind the gateway on the Hauptstrasse in Poysdorf. But with the first step into the Ebner-Ebenauer estate's courtyard, one finds oneself in another world.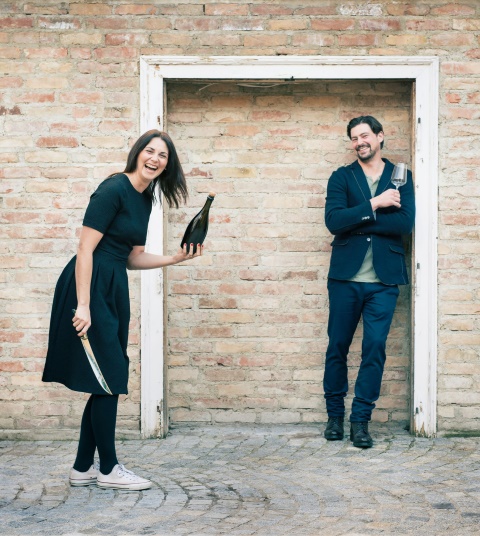 "We have set ourselves the goal of making wines as an expression of our ideas; we exchange opinions on a wine before we press the grapes."
  Marion and Manfred
Ebner-Ebenauer
One could describe the architecture and the atmosphere as rather Tuscan… And this is not by chance, since Manfred Ebner-Ebenauer's grandparents studied in France and Italy. After the original estate was burned nearly to the ground in 1945, they rebuilt it once more – deeply influenced by their life in Mediterranean lands and their love of them. A layout of angles and corners, lacking any sense of contrivance – yes, there is indeed a fairy-tale quality to the premises. A sensitive renovation took place in 2012, bearing witness not only to Marion's and Manfred's love for art and architecture, but most of all to their shared commitment and the focussed union of their individual energies.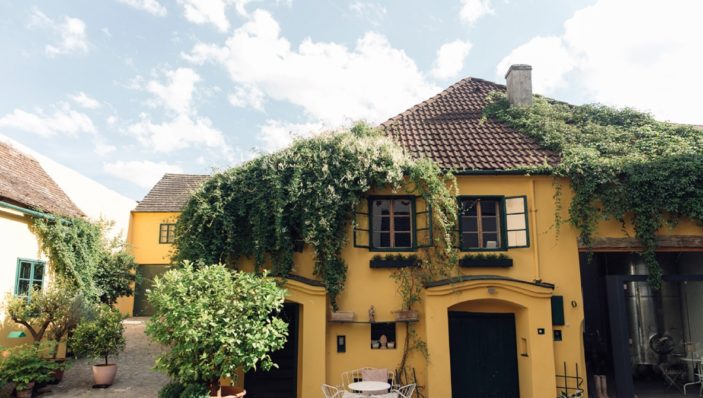 What does this mean? It's quite simple: for the two of them, the estate in Poysdorf is an oasis of substance and enterprise. Not only because of the complex physical composition of the old stonework, which has been in the winegrowing family for fourteen generations. Not only because of the modern details that have been so harmoniously interwoven. Not only because peace and contemplation are just as much at home here as are the estate's legendary festivities. It is because the whole is far greater than the sum of the parts. Because a rare and precious environment has been created here, where individuals and wines feel at ease – yes, and couldn't feel otherwise.
This is so because Marion and Manfred have come to understand life and nature, the importance of contrasts, the give and take. What must be, must be – without any compromise. This holds true for men and women, as well as for the wines that repose in the 400 year-old cellar.
Marion & Manfred
Complementary Polarities
Sometimes life brings opposites together in order to create something new and powerful. This is precisely what happened with the Ebner-Ebenauers. Manfred, the calm and circumspect experimenter with a love of Burgundy who is happiest working in the cellar, studying the wines and experiencing them with all his senses… and Marion, who is joie de vivre incarnate, vibrant with energy and always on the lookout for new challenges. He, deeply rooted in his own hometown; she, formerly a teenage star négociante who took her craft out into the world.
The inner strength of this dichotomy is also – and above all – perceptible in the wines, which are allowed to develop to their full potential. Because they lack for nothing – from the tender and expert care they receive in their 'childhood' while still hanging as clusters growing on the vine, via intelligent and sensitive vinification (with as little intervention as possible) to the mise en scène, when it comes time to share their distinctive personalities with the world at large.